MFM-655-10M Fiber Pigtailed Laser Module
---
Item No.: MFM-655-10M
Wavelength: 655 +/- 5 nM
Output power: 10 mW
Fiber core diameter: 100 um
Fiber connector: FC
N.A.: 0.22
Operating current (Iop): < 100 mA
Operating voltage (Vop): 5 VDC
Laser size: Dia. 12.7 x 53.5mm Optional:
Power Supply (Item No.: PS-5V2A):
Size: 65 x 55 x 34.4 mm
Input Voltage: 90 - 264VAC, 47 - 63Hz
Output Voltage: Regulated 5VDC / 2.0A
$49.00/ea.
Laser Module Mount (Item No.: LM-R12.7)
$39.00/ea.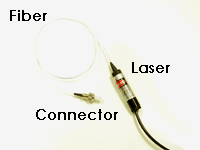 Disclaimer: The specifications are subject to change without notice.
MeshTel - INTELITE, INC. info@meshtel.com

Tel:(775) 267-5959, Fax:(775) 267-5958
---