Laser Animation Display
---
Item No.: LAS-2000
Laser Projection System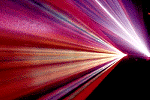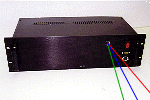 Displaying Dynamic Animated Presentations has never been so easy and affordable! Convention booth displays, store fronts, night clubs, bars, hotels, concerts, parties, theaters, advertisements, multi-media presentations, industrial applications etc..
LASER SHOW ACCESSORIES
The LAS-2000 projection system produces a visual impact far beyond other technique. It is a portable unit about the size of a laptop computer, and is extremely versatile. The Mesh-2000 can operate by itself, or it can be used to enhance conventional audio-visual presentations. Typical applications include store front advertisements, multi-media presentations, convention booth displays, theaters, night clubs, bars, hotels, billboards or commercial building entrance halls and more. The LAS-2000's 45-degree projection angle provides a throw distance equal to screen size. The Mesh-2000 combines modern computer and laser technology to produce exceptional visual presentations. Its self-contained microcomputer controls a laser beam that generates line-drawn images. With computer control, programs can run one repitition, or automatically repeat themselves...without operator intervention. The computer also makes sophisticated graphic image manipulations possible, such as 3-D display, resize, move, fade, spark, zoom-in, zoom-out, rotate on X, Y or Z planes, scrolling text, write out, morph, window and many more.
Mainly four types of systems available:

Item No.
Description
Starting Price
LAS-2000-PS
Portable Single Color System. Class IIIa, Class IIIb
$3,995.00
LAS-2000-PF
Full Color System. Class IIIa, Class IIIb.
$19,995.00
LAS-2000-LS
Large Frame Single Color System, Class IIIb.
$15,995.00
LAS-2000-LF
Large Frame Full Color System, Class IIIb, Class IV
$29,995.00
OPTIONS:
Complete Graphic Station
Beam Table
Lumia Effects
Fiber Optics Effects
Laser Animation Software / Training
Graphics Samples
The basic function for any of these four type of systems is to play back a series of texts, animation, graphics or a whole combination. The system may run in loop continusly or queued through every frames manually using an external remote switch. The main program or any part of graphics may be changed or updated according to customer's requirements periodically. Other options may be added to the basic features based on customer's request or requirements are such as programming, generating graphics, raster scanning and video capturing.

Class IIIa systems are mostly portable and may be used at any location as long as proper operation instructions and procedures are followed.
Class IIIb systems are mostly stationary. If the system is planned to be installed within the US, the customer has to apply to obtain a new variance number in order to operate the system. Program Creation: INTELITE provides programming support to convert your ideas into a complete presentation. This support is backed by a library of graphic images and programs. Also if desired, user-supplied logos and artwork can be converted into LAS presentations. For those wishing to generate their own programs, there is a digitizing and programming package that converts conventional artwork into the LAS-2000 format. Use of this package is supported by a short training program.

Specifications:
Operational:
Scanning Rate: 18 frames/sec or higher.
Program Length (max): Flexible.
Manual Cue: Push button.
Reset Switch: Illuminated push button on front panel.
Screen Size: Flexible.
Operating System: Customized operating system, MS DOS/ Microsoft Windows compatible.
Terminal (option): PC compatible computer.
Text Fonts: 25 different type faces.

Electrical:
Laser: 5 mW or higher.
Power: 110/220 VAC @ 2A or higher.

Mechanical:
Dimensions: 15 in. X 12 in. X 8 in. (Basic Class IIIa system)
Weight: 12 lbs or higher.

Environmental:
Cooling: Air Cooled.
Operating Temperature: 0 to 50 °C.

Laser Safety CDRH:
Certification: Class IIIa, Class IIIb.
Beam Attenuator: Electromechanical (operated by Front panel push button)
Emission Indicator: Illuminated reset switch.
Emission Delay.
Key Lock on/off switch.
---